Historic U.S. 61: Hastings Avenue, Newport
Hastings Avenue
Located In: City of Newport, Washington County.
Bypassed: 1949
Length: 0.55 miles
Also Marked As:
1935-1949
1938-1949
Until 1934
Part of Hastings Avenue in Downtown Newport was once on the alignment of the original paved highway between St. Paul and Hastings, first marked as U.S. 61 in 1926. The surviving segment runs from just south of the interchange with I-494 to High Street along the east side of modern U.S. 61/U.S. 10.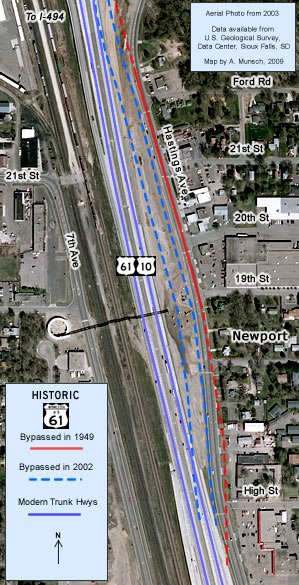 Construction
The highway through Newport was originally paved with 18 feet of concrete in 1925.
Bypass History
The original road was replaced in 1949 when U.S. 61 through Newport was upgraded into a divided highway. A short section of the old road was left behind along the east (northbound side) of the highway as a service drive.
Current Status
None of the original pavement is in use today due to numerous improvement projects conducted since 1949.
The destruction of the old road started in 1962, when a small stretch of the old concrete was removed at the intersection with 20th Street as part of local access improvements (there was once an access point to U.S. 61/U.S. 10 at 20th Street, now removed). The remainder of the old concrete was paved over in 1964 as part of a widening and resurfacing project.
The recent (2002-2004) freeway upgrade of U.S. 61/U.S. 10 at Newport included the complete reconstruction of Hastings Avenue. The old road was obliterated, and a new wider service drive was constructed in its place. Although the northern section of the new drive followed the alignment of the original highway, south of 19th Street the new road was realigned slightly to the west.
---
Photo Tour

- All photos were taken in September, 2006.

Looking north on Hastings Ave at High Street in Newport. The old highway passed through the front lawns of the buildings on the right prior to the recent 2002-2004 reconstruction.

Looking north on Hastings Ave. at 19th Street. The service drive north of this point still runs along the alignment of the original paved highway.

Looking north on Hastings Ave. at 20th Street. This intersection was previously the primary access point to U.S. 61/U.S. 10 for the various local businesses at Newport. Several local businesses have been forced to close due to access issues. Notice the closed gas station on the right.

Looking north on Hastings Ave at 21st Street in Newport. Note the "Mainstreet Bank" in the old brick building on the right. The old highway once continued straight ahead into what is now the interchange with Interstate 494 (several ramps are visible on the left). The frontage road was extended north and east recently to connect to Bailey Road.