Historic U.S. 61: Cady Street, Red Wing
Cady Street
Located: About 1 mile southeast of the junction with State Hwy 19 along the southeast side of U.S. 61, west end of the city of Red Wing, Goodhue County.
Historic Context: Early concrete-paved highway.
Length: 0.30 miles
Constructed: 1920, as part of the first paved highway on the west side of Red Wing between downtown and the Anderson Farm (at Hwy 19). Paved with 18' concrete.
Bypassed: 1939, by construction of a new alignment on the hill west of Red Wing between Spring Creek and Highway 19.
Also Part Of:
Status: 0.20 miles rebuilt as a residential street, 0.10 miles repaved and intact as a cemetery service road.
Access: Two access points directly from U.S. 61.
---
More U.S. 61 Articles
North >> Old Road and Bridges In the Cannon River Bottoms
South >> Service Drive at Tyler Road
Cady Street, a residential street on the west end of Red Wing, was once part of one of the earliest paved sections of U.S. 61 in Minnesota. It was built in 1920 as part of a concrete road between downtown Red Wing and what is now the junction with State Highway 19 at the Anderson Farm. The portion of this road west of Spring Creek was replaced in 1939, getting rid of several very sharp curves, including several on the steep hill leaving the Mississippi River Valley (the construction standards in 1920 had been far less stringent). What is now Cady Street was part of one of these curves.
Cady Street was originally retained as an access road to a local cemetery. Roadside development plans from the early 50's show that it was also used as the driveway to a wayside rest and parking area (now gone).
Today, the area around Cady Street is home to several modern subdivisions. The parking area is gone, replaced by private homes and a church. The street itself has been extensively modernized and rebuilt, with the exception of the far western end, still in use as an access road for the cemetery. This section has only been repaved.
Photo Tour - Photos were taken in March, 2007.

Looking west on Cady Street at the cemetery towards the modern highway. This end of the old alignment seems to still be at about the width of the original road. Notice how the road is aligned with modern U.S. 61 on the horizon.

Looking east on Cady Street. Note the cemetery fence on the right.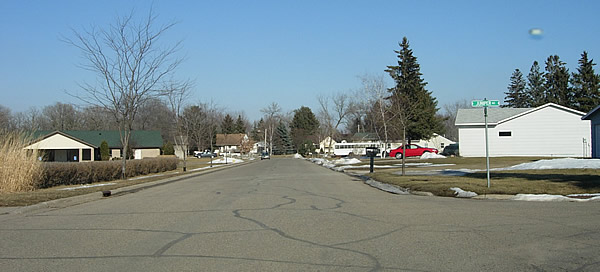 Looking east on Cady St. at Juniper. The old highway has been redeveloped into a standard suburban street at this point.